Planning and budgeting for 2024 is well underway around the world. As we prepare for a new year, the top issues for executives, HR teams, and others remain the same — including the fact that finding and retaining skilled talent is still incredibly tricky. 
Everyone from recruiters to hiring managers is trying their best not just to attract top talent, but also hang on to it. To achieve that, it's becoming more and more clear that people want the flexibility to not only work from home, but anywhere they want.
There's more than anecdotal evidence to back it up. According to Gartner, 80% of millennials want to spend part of their career abroad. Our own research adds to the conversation: 240 European business leaders and managers told us about their experiences with Global Mobility and how it's not only filling talent gaps. The results of our survey show an incredible return on investment for companies that commit to employee flexibility and Global Mobility.
We've packaged our findings into an insightful report: "The ROI of Global Mobility." Here are five key takeaways from the report to get you started.
1. Global Mobility has an ROI of up to 270%
The business leaders and managers we surveyed told us about the ROI they see from offering their employees support with relocation and workcations. While relocations have costs, they also deliver an ROI gain of up to 270%. This impressive return is realized through positive impacts on productivity, employee retention, and profitability. 
Nearly half of business owners and CEOs in our survey said there's a direct correlation between mobility benefits and higher company profits. It's clear that Global Mobility is more than just a perk to offer in a highly competitive labor marketplace. Mobility is now proving to be a vital component of corporate success in a competitive economy.
2. Relocation support improves productivity
That direct correlation that European business leaders see between Global Mobility and higher profits comes down to an uptick in employee performance. Over and over, survey respondents told us that employees with flexibility and mobility options simply perform better.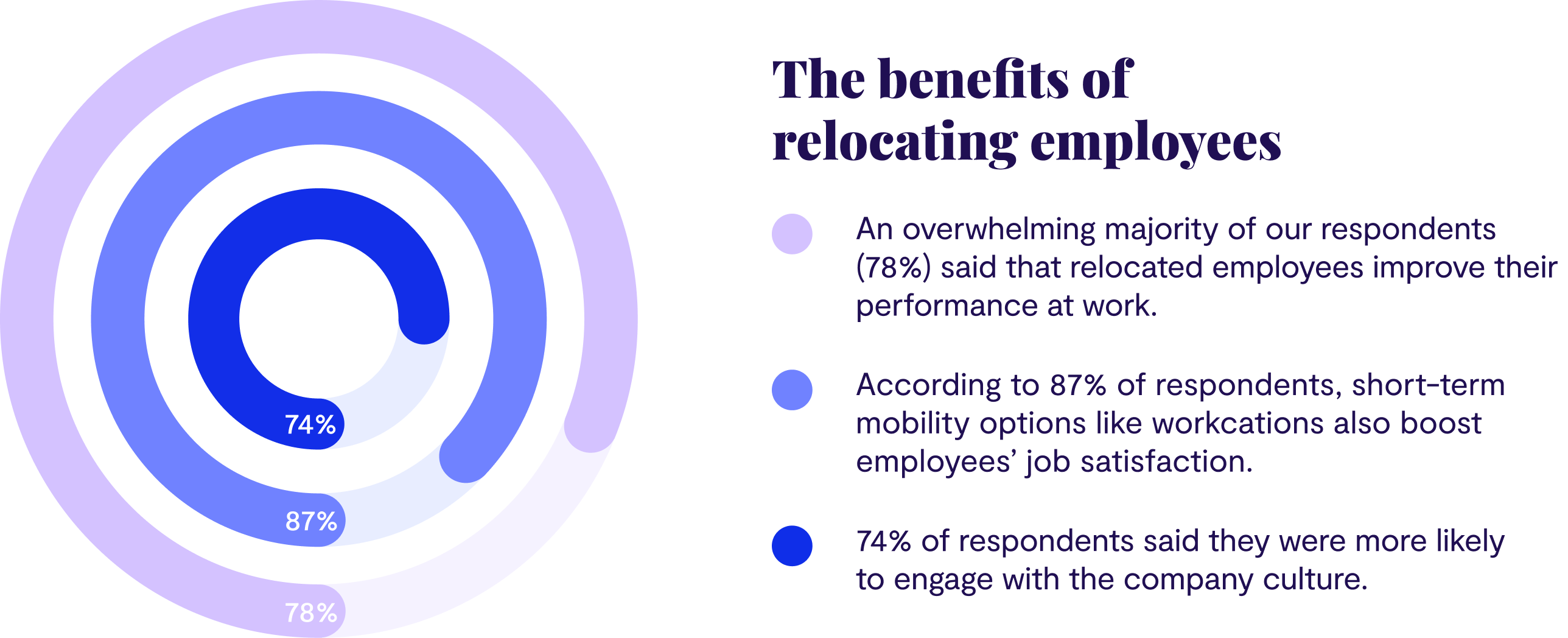 For example, an overwhelming majority (78%) of our respondents confirmed that employees who received relocation support demonstrate higher performance and commitment to the business. To add to that, 8 out of 10 respondents shared that short-term mobility options like workcations boost employee satisfaction. By investing in their people's flexibility, these companies observe gains in productivity and performance.
3. Work-from-home is now work-from-anywhere
The news is full of stories about corporations asking employees to return to the office. When web conferencing leader Zoom announced they were bringing employees back to the office, many wondered if this was the end of the work-from-home era. However, our research shows that the work-from-home age isn't over; it's evolving into the work-from-anywhere era.
While some companies are indeed calling for a return to the office, many business leaders know that flexibility is the new normal. It's not just us who see this trend. According to research from EY, flexibility is the new normal for business, with 9 out of 10 workers considering it "extremely important." 
And now, flexibility means more than work-from-home. Today, it means Global Mobility, and companies are adopting it to attract and retain top-tier candidates in the ongoing talent shortage.
4. Mobility offers a long list of intangible benefits
Solving talent acquisition issues is obviously important to leaders and HR departments. Increased profits are always high on the agenda. But those are just the top two items in a long list of benefits that come with Global Mobility.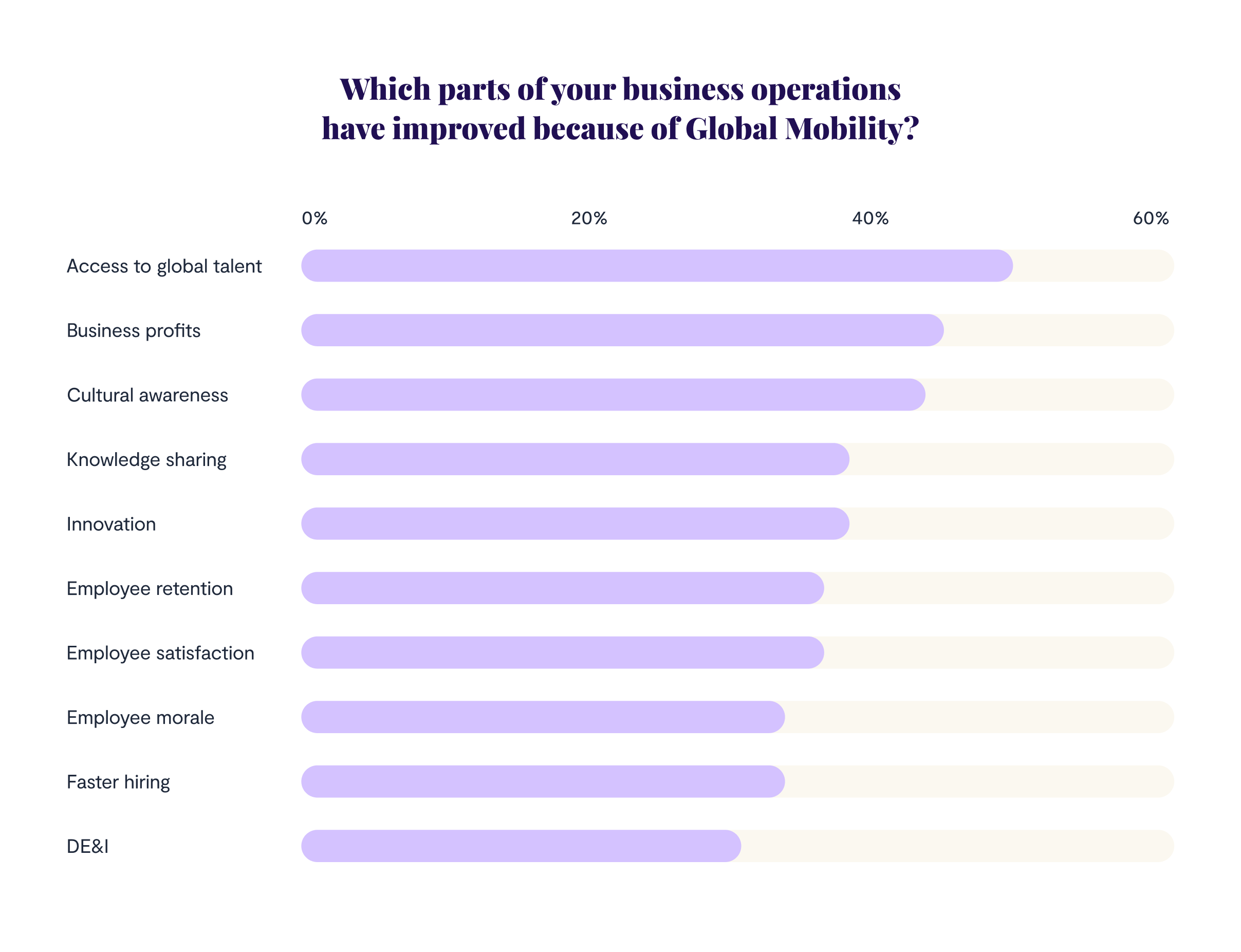 Respondents that offer employees flexibility and mobility also reported a boost in cultural awareness, knowledge sharing, and innovation. Because, at the end of the day, mobility doesn't always mean that employees are separated – rather, they have the opportunity to also reconnect in the same location, which is especially important for distributed teams struggling to sustain a sense of culture and connection. 
Short-term mobility options like workcations are particularly helpful here, because they enable people to temporarily work outside their home country and potentially connect with colleagues who are based elsewhere. I am an avid defender of remote work, but at the same time we need those creative solutions to come together and collaborate. Global Mobility can be a big piece of the puzzle. 
5. Short-term returns and long-term gains
One of the rarely discussed problems associated with the talent shortage is just how long it takes to find a good fit for a new position. A long talent acquisition cycle hurts any company's bottom line. More than two-thirds of our survey respondents in the UK, Ireland, and the Netherlands reported facing these challenges when hiring locally only. These business leaders said the recruitment process can take up to six months on average, and 35% said that senior positions can take even longer.
Offering mobility and work-from-anywhere options opens up the global workforce to these companies. This helps reduce the number of poor-match hires, which cost our survey respondents an average of $42,000. On the other hand, relocation costs are a small price to pay for the right talent.
Across all survey responses, the mean relocation cost was $26,260, while perceived financial benefits were $48,660 annually. That equates to an ROI gain of 85% if the relocated employee stays for one year. By the end of the second year, the ROI figure is now 270%. Therefore, employers embracing Global Mobility avoid the costs of long recruitment cycles and see short-term returns followed by long-term gains.
Those five takeaways make a convincing case for the importance of offering flexibility and Global Mobility. Businesses recruit from a broader range of talent, have better-performing and more committed employees, and see increased profits. 
But there's even more to learn from our report "The ROI of Global Mobility." Download your copy here.