After several months of research, development, and testing, Localyze is proud to present Localyze 2.0: a new and improved release of our global mobility platform. The latest iteration features a fresh redesign, brand new features and updates to existing functionalities. 
This isn't your run-of-the-mill product release, though. We didn't choose to refashion our platform simply because we thought it needed a new look or wanted to strengthen our position in the marketplace. Rather, it was a direct response to the massive change the global mobility industry has undergone over the last one and a half years due to the Covid-19 pandemic. 
"When Covid started a lot of people said that relocation is dead and that no one will move across borders anymore. However, the pandemic transformed the way we work and resulted in the rise of distributed work and location flexibility", says Localyze CEO Hanna Marie Asmussen. "Now, we actually see more people moving across borders in very different ways. The global mobility and relocation industry is changing rapidly. To help HR teams keep pace with this change and the associated challenges, we recognised the need for newer, better global mobility technology. Localyze 2.0 is the first step in that direction."
Since we wanted the next iteration of our product to directly benefit HR teams, we made them a core part of the redesign process. We were in close conversation with several of our customers leading up to the relaunch, including our customer advisory board, which is made up of HR leaders from Trade Republic, Forto, Contentful, Personio, FREE NOW, Adjust, Emma, Thoughtworks, Diconium and Glovo. 
It was important for us to have diverse input from a variety of customers, as each company and team has their own unique needs and global mobility strategy. From the start, we also recognised that our customers have a deep understanding of the industry, the changes taking place in it, and that their feedback would be essential in shaping a truly user-centric product. Thanks once again to everyone who contributed. 
Now, without further adieu, let's take a peek at some of the main features and updates that make Localyze 2.0 the global mobility product of the future.
Dashboard
The crown jewel of Localyze 2.0 is without a doubt the new dashboard. Built for enhanced productivity and workflow transparency, it provides users with full visibility, at a glance, into all of their employee mobility processes, data, and needs.
At the top of the dashboard there are two fields, My Tasks and My Processes that directly draw the user's attention to tasks that require attention, such as uploading contracts and other forms, as well as their ongoing processes or cases. Having a clear overview of these two things at all times brings clarity to HR workflows and removes bottlenecks.
‍‍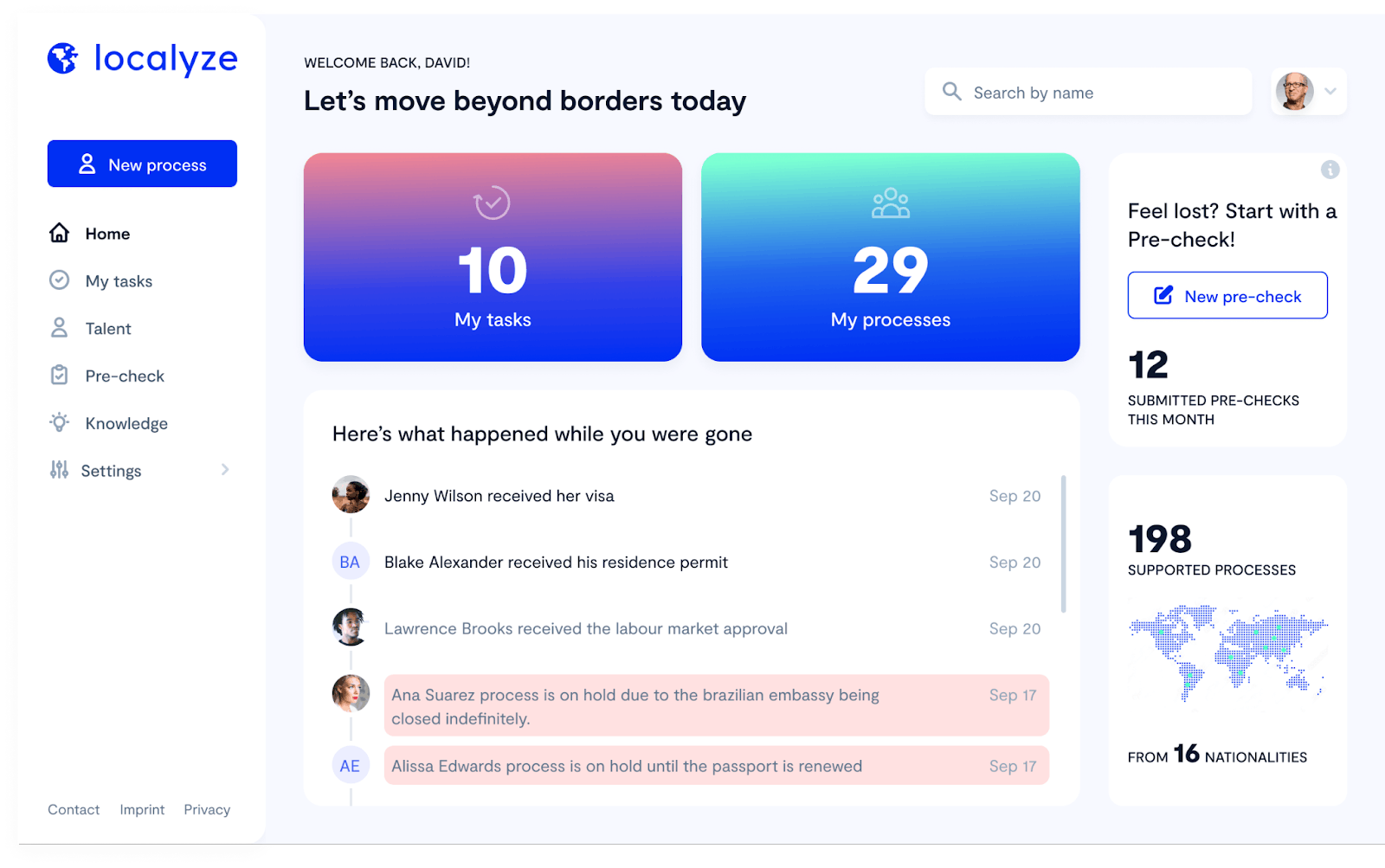 Below My Tasks and My Processes we've added a newsfeed that highlights recent updates for all ongoing processes. For example, when a candidate uploads an important document such as an employment contract, or when a talent receives their work visa, this information will be displayed in the newsfeed. 
On the right side of the dashboard, users can see the number of supported processes, how many nationalities supported talent come from, the number of Pre-Checks submitted for the current month, as well as a button that provides quick access to a new Pre-Check submission.
In the top right corner, there's a search field that makes it easy to quickly search for talent. 
Tasks and notifications
The processes in employee relocation and global mobility can be quite complex. And the more talent a company works with, the more involved the workflow gets. Many of our customers have started to experience an increased demand for international employee relocation. To ease the burden on their teams and make the process smoother for their talent, we added new task and notification functionalities to improve workflow management. 
‍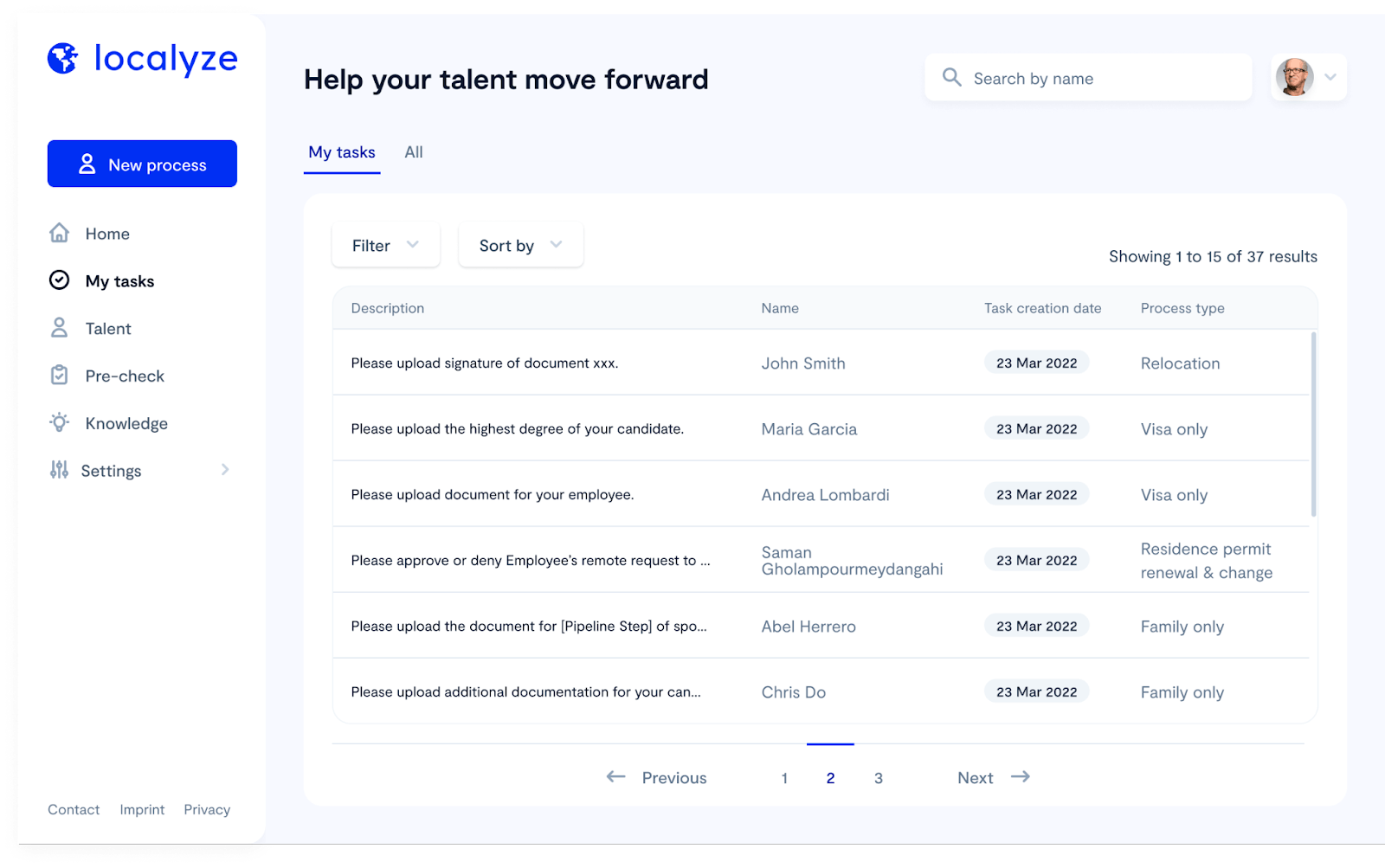 ‍
On the My Tasks page—accessible via the dashboard or the column on the left hand side—users can easily see all tasks related to their ongoing processes, including a description of the task, the name of the talent whose process the task is related to, the task creation date and the process type. 
In addition to seeing individual tasks for a user, it's also possible to view team-wide tasks. This feature comes in handy when delegating or sharing tasks. It's also useful for team leads and managers that require a bird's eye view of ongoing tasks and workflows.
When clicking on a task, the profile of the relevant talent is displayed. To the right of the profile, there's an overview of the tasks related to the talent's case, recent updates, as well as messages. Via this page, it's also possible to upload supporting documents.
When a new task is created, in addition to being notified in the app, users also receive a notification in their email inbox. 
Talent view and profile
Due to the growing demand for remote and hybrid work, workforces are becoming increasingly mobile. As a result, there's an increasing need for HR teams to open and close cases for employees on an ongoing basis. To that end, we recognised the need for an updated talent view on our platform.
In the redesigned talent view, it's now possible to access not only ongoing cases, but closed ones, too. We've also made it easier to search for talent using a variety of filter criteria such as process type, process status (active or inactive), and office location. Additionally, users now have the option to manually add mobility and relocation cases that weren't handled by Localyze. ​​
‍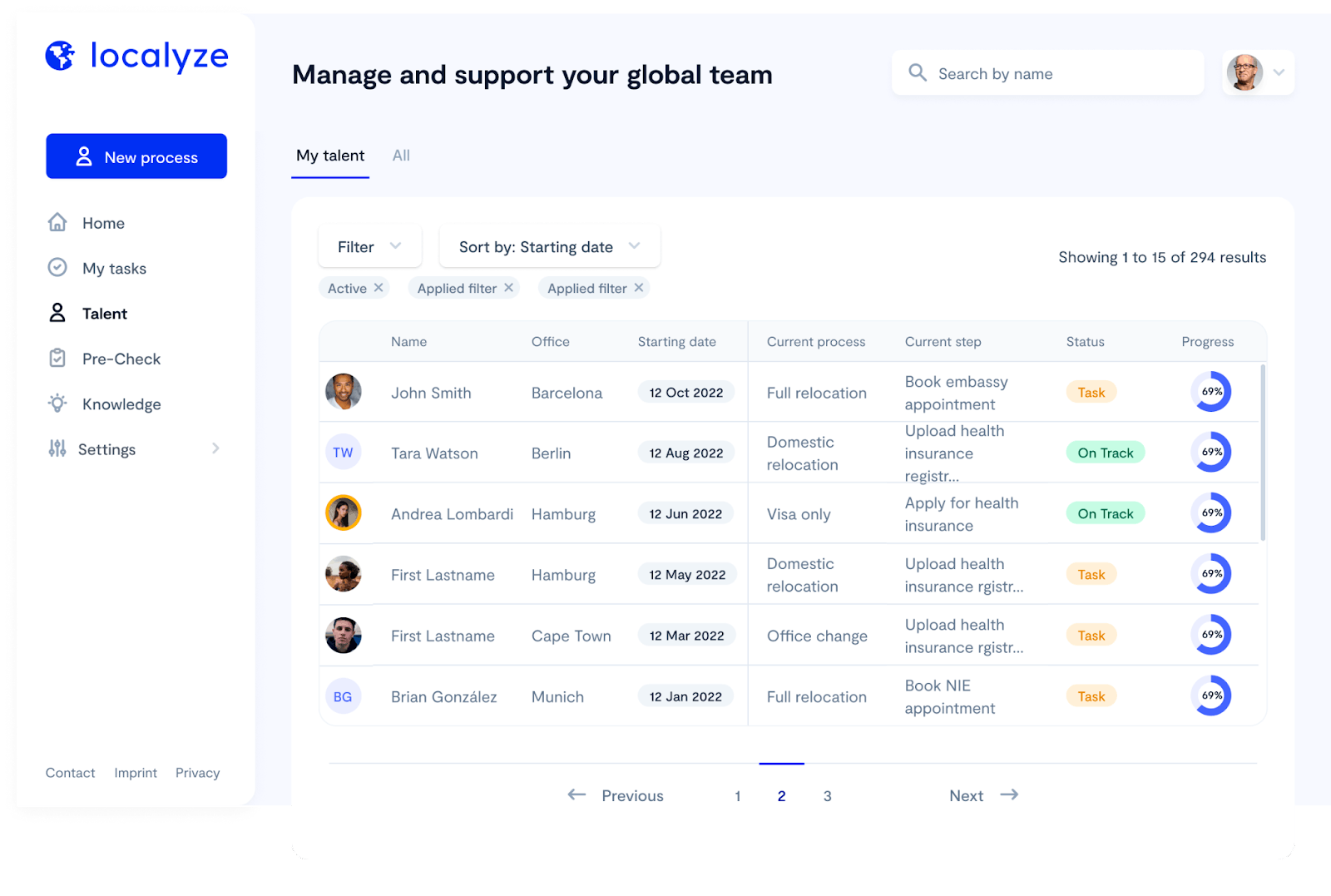 When accessing the Talent page, an overview of all talent that both individual users and entire teams are responsible for is displayed. The talent's office location and starting date are also shown, as well as the corresponding process, the current step and its status, and finally a circular progress bar to quickly let users know how far along the overall process is.
‍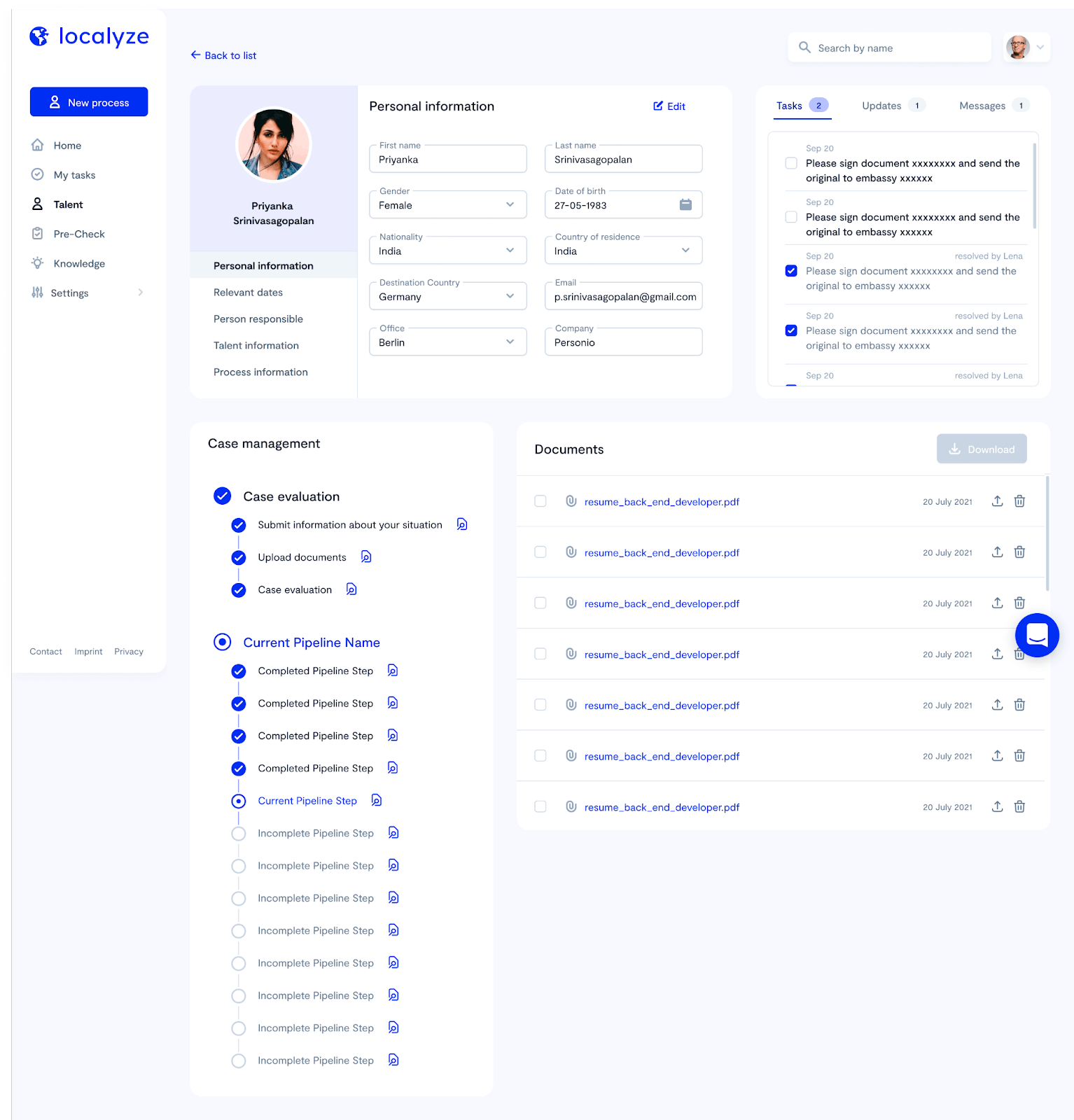 ‍
When clicking on a talent's profile, their personal information, corresponding tasks, updates, and messages are displayed. There's also a section where relevant documents can easily be uploaded, stored, and accessed. 
Pre-check and knowledge page
One of the biggest consequences of the pandemic was extended waiting times for visa applications. This topic came up in discussions with our customer advisory board, who suggested we make our professional knowledge on the matter accessible to our customers to help manage expectations. In response, we launched our Pre-Check function and Knowledge page.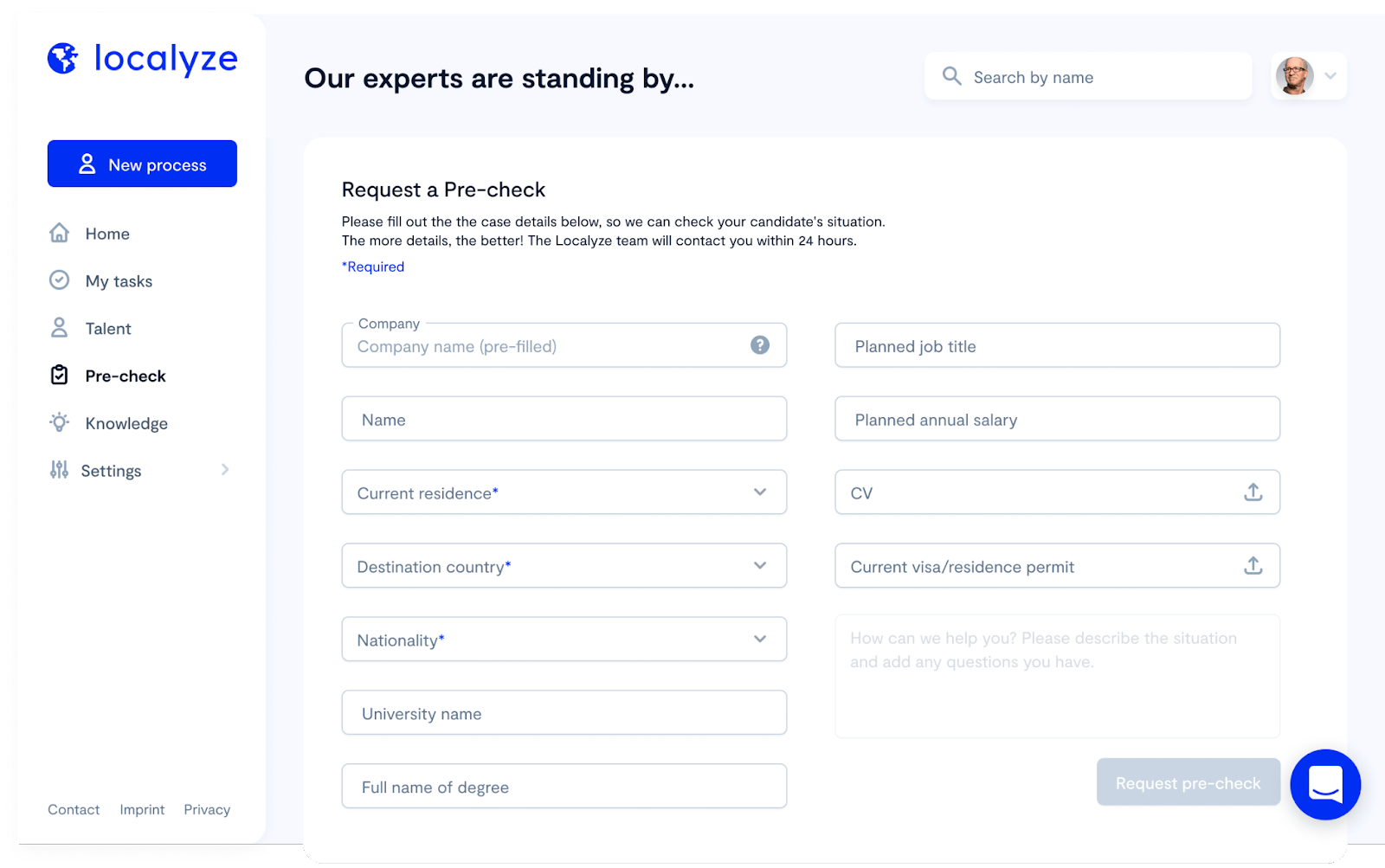 The Pre-Check function was originally intended to help customers get a better idea as to whether or not a potential candidate would be eligible for a visa, and how long the process would take on average. Now, the Pre-Check can also be used to get more information on a variety of process types and candidate circumstances. 
When users have a question about a process, all they have to do is submit a form with detailed information on the talent in question. Localyze's case managers will review the request and respond personally within 24 hours.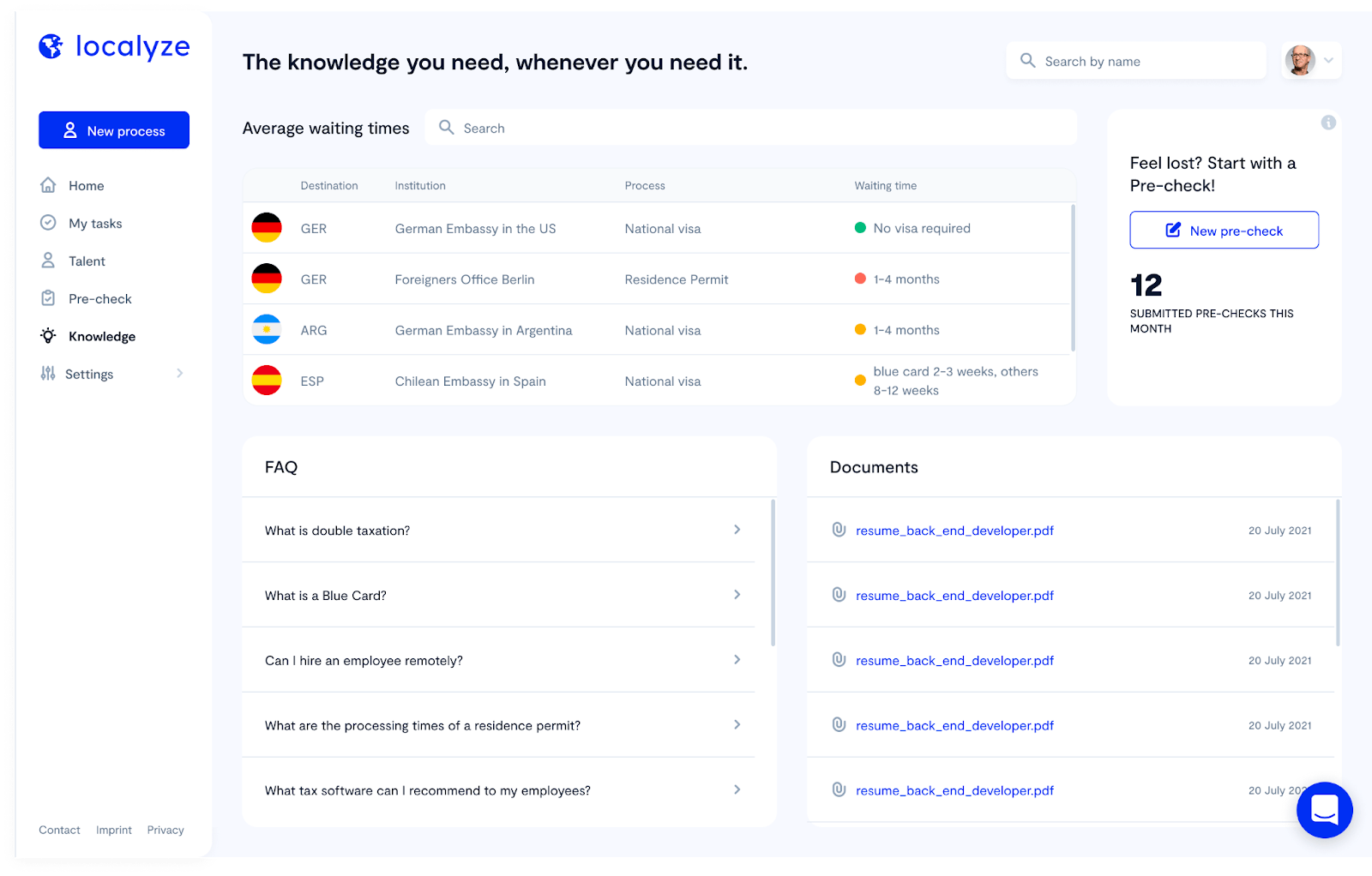 Similarly, users can access a Knowledge page that contains a wealth of information on average visa waiting times, immigration and country-specific FAQs, forms, templates and more. 
There's so much more!
The features mentioned above represent just a few of the many capabilities you can expect from Localyze 2.0. Companies across the world are already leveraging our platform to hire the best talent, regardless of where they're from, and drive business success. 
Want to learn more about hiring across borders with Localyze? Schedule a call to speak with our expert team!