Labor shortage is a trillion-dollar problem, with organizational consulting firm Korn Ferry estimating that by 2030, developed economies will be lacking 85 million workers, costing the global economy $8.5 trillion in unrealized annual revenues.
Blue collar workers are some of the most impacted. A 2018 report by Deloitte & The Manufacturing Institute projects that between 2018 and 2028, there could be as many as 2.4 million unfilled manufacturing jobs in the United States, causing an estimated $454 billion negative economic impact.
As such, we're taking a look at some upcoming markets for trained mechanics, electricians, construction workers and butchers.
Where do the world's blue collar workers come from?
Most of the world's up and coming locations for skilled blue collar workers hail from developing economies. But, within that bracket, certain countries and regions have an outsized impact on the market for blue-collar labor, either due to their population, economic weight, or a mix of both.
Construction workers
According to figures published by the Bureau of Labor Statistics, Hispanics in America were more likely to be employed in construction, making up a disproportionate 30% of the industry, despite having just a 17.6% of the entire workforce.
If we cross-reference that against data released by the American Community Survey that shows 3.2 million immigrants (roughly one in five workers) are employed in construction, we can safely assume that there's an overlap and that Latin American immigrants form a huge chunk of the United States' construction and infrastructure industry.
Additionally, 2019 data from the U.S. Census Bureau shows 26% of America's 11 million Mexican immigrants are employed in construction, mining, and maintenance, compared to just 8% of the native-born population.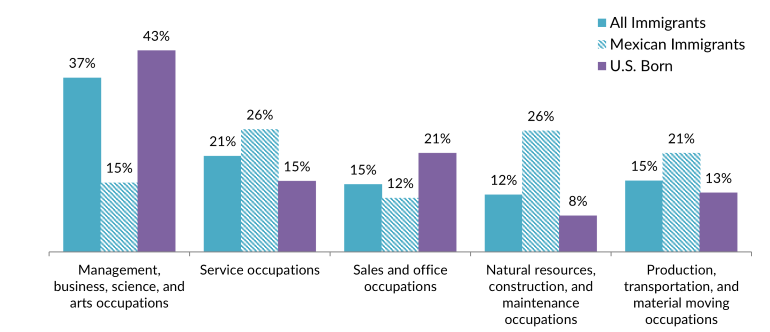 Likewise, India and its neighbors Pakistan & Bangladesh have been equally strong origin countries for construction workers.
A quarter of India's 31 million emigrants are employed in the oil, construction, domestic services, and factory industries in the Persian Gulf, making up more than 30% of the region's population.
Another source of trained construction workers is Bangladesh. According to the Bangladeshi Bureau of Manpower, Employment, and Training, more than 5.6 million natives immigrated to Persian Gulf countries and Malaysia between 1976 and 2009, and estimates suggest that roughly 500,000 workers join the diaspora every year.
Butchers
A few places are starting to develop reputations for cultivating skilled butchers. Among them are Africa, Eastern Europe and the Balkans. Figures published by The Guardian show that more than 50% of butchers in Italy and a third of Spain's meat processing industry come from the aforementioned countries.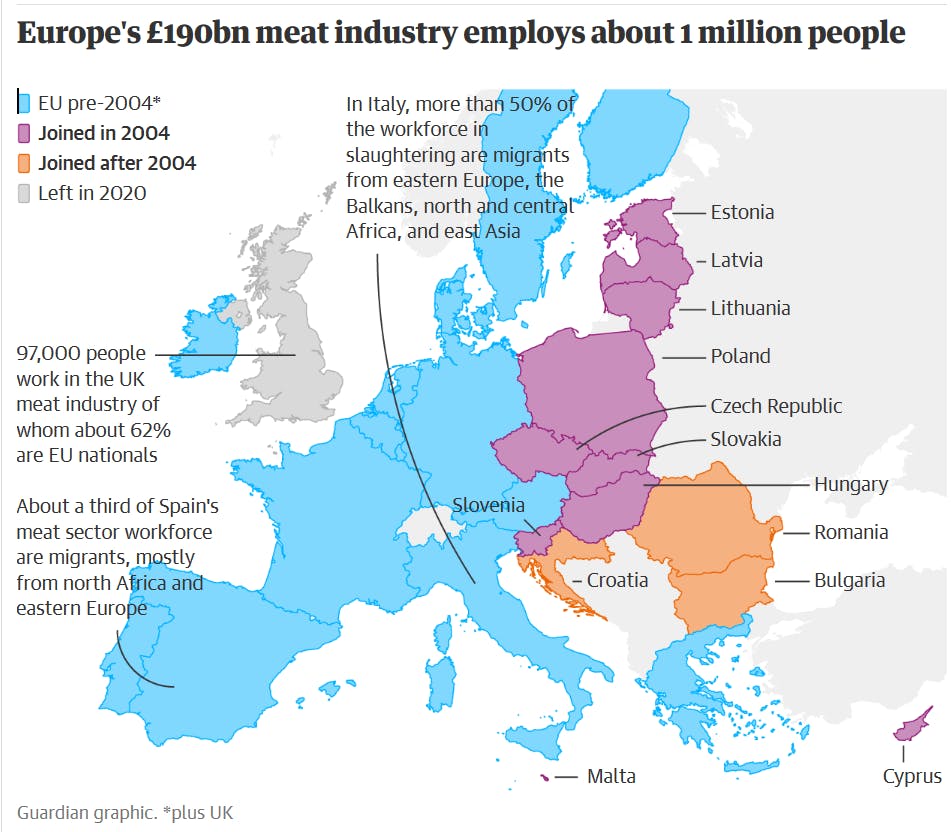 Mechanics
If you're looking to source mechanics, it's worth looking to countries that are known for importing used cars. These include nations such as Mexico (>500k), Bangladesh (20k), Nigeria (>114k), and Ukraine (471k).
Secondly, consider countries with the most auto factories - India, Mexico, Brazil, Thailand, the Czech Republic, and Slovakia.
Countries in both brackets are bound to have a significant number of skilled mechanics.
Electricians
To find electricians, look at countries that are ramping up their electricity generation (and consumption), often by commissioning energy megaprojects like Ethiopia's Grand Ethiopian Renaissance Dam. In addition to Ethiopia, you can look to Mexico, Egypt, and Thailand.
When looking at developing nations that already consume significant amounts of energy, the list expands to include Indonesia, Pakistan, Turkey, and Kazakhstan.
An abundance of blue collar workers
When faced with a worker shortage, finding help can feel overwhelming. However, when you expand your search to new countries, you'll find that there are an abundance of skilled blue collar workers around the world.
If you are ready to take the next step, Localyze can help. Our platform and experienced case manager walk you through every step of the immigration process, simplifying the process of relocating foreign workers.