With labor shortages costing businesses globally more than $3 billion per day, organizations are increasingly relying on hiring international employees to fill open roles. Which is good news, given that 80% of millennials are interested in working abroad.
But while international employees can bring many benefits to an organization, they also face unique challenges when starting their new job. 92% of survey respondents said they would require a financial incentive - such as immigration assistance - from a company before accepting a position that requires them to relocate.
The good news is that 91% of expat workers who receive company benefits are satisfied with their jobs and 40% of expats are among the top performers at their current companies. Additionally, employees who are satisfied with the support they receive from their company are 1.5x more likely to stay.
All of this adds up to mean that companies that nail the onboarding experience for their international employees are well on their way to setting those employees (and themselves) up for success. 
Getting the most out of the relocation process
The first step to a successful onboarding experience is selecting the right relocation experience for your international employees.
At Localyze, we understand that your onboarding process starts with us, and we take that very seriously. Which is why we're proud to introduce our new Talent platform. From the moment your new employee logs in, they will feel taken care of.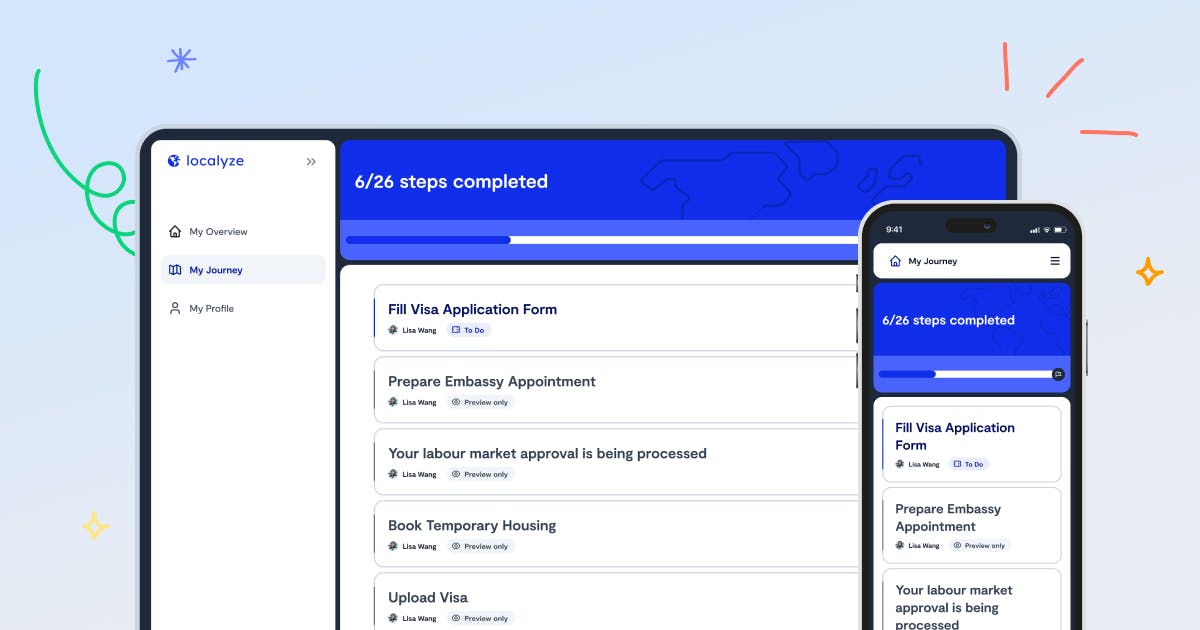 The redesigned Talent platform makes it even faster, easier, and less complex for employees to navigate what can be a challenging and scary immigration journey. This includes quick access to key elements – appointment dates, knowledge and partner offers, documents – from a single dashboard on mobile and desktop, as well as a personalized, transparent, step-by-step journey. 
"As someone who has never moved to a new country before, it's really useful to see the full process under 'my journey," says Zachary, who moved from USA to Germany, " I appreciate the ability to easily upload, preview, and keep track of documents in one place as well as quickly see the progress I've made and next steps. I know Localyze is by my side!"
"Since working with Localyze we have always felt like we have a partner supporting our Talent across borders," says Reece Procter, People Operations Lead at Personio, "This latest release has already helped our employees simplify what can be a scary relocation experience. We know they are in good hands."
Looking to learn more about the importance of the employee onboarding experience? Join us on February 16 for our upcoming webinar, Spotlight on Employee Experience: Why it matters now.