Highlights:‍
Organizations are shifting to flexible, open career models with increased mobility
Workplace flexibility is not just a buzzword; it has proven to be an economically justified business investment
Remote Work Policies are a necessary first step to provide increased flexibility options for your employees
The new Remote Policy Feature at Localyze enables companies to efficiently manage employees' remote stay requests in a centralized and digital environment
Book a demo call with us to learn more
"Workplace flexibility" is a buzzword that has recently gotten much attention. As the fight for talent intensifies in a candidate-driven market, companies aim to adjust their work setups and provide more location flexibility and remote work possibilities for their current employees and potential candidates. Organizations are shifting to flexible, open career models with increased mobility, and, based on Deloitte's 2021 Return to Workplaces Survey, 68% of companies are already implementing a hybrid model.
But, contrary to what most people think, before committing to increasing workplace flexibility, it is necessary to have a comprehensive remote work policy in place. Why? It will help your company remain competitive and - a reason that is usually ignored- stay compliant.
‍Tech companies such as Twitter, Facebook, Microsoft, and Figma have shared their global mobility policies during the past few months. If you too want to increase workplace flexibility but don't know where to start, read below: this article will guide you through the topic and outline what's essential to consider when launching your remote work policy.
The case for increased flexibility, and challenges associated with it
According to a collection of statistics sourced by Forbes from leading research institutions such as Gallup, Harvard University, Global Workplace Analytics, and Stanford University, workplace flexibility can be very beneficial for businesses and employees alike.
First of all, it can boost your employee's productivity by over 35% and save your company as much as five-digit numbers per year per part-time telecommuter, making this a business investment that is indeed economically justified. Moreover, higher productivity and performance encourage a higher employee engagement, which in turn means less absenteeism and higher retention rates for your company - as a whopping 54% of employees would change jobs for one that offered them more flexibility.‍
So, now that we know that the 'flexible work revolution' is a worthy investment and likely a "buzzword" that is here to stay, why are companies struggling so much to move forward?
With companies growing and temporary mobility in the European Union becoming part of the Global Mobility Policy, it can be challenging to stay on top of things and manage the influx of different requests. Suddenly, HR teams need to be experts in all areas of Global Mobility. Whereas operating a hybrid model seemed easy last year, now companies are starting to realize what managing a flexible work setup really means.‍
According to Hanna Asmussen, CEO of Localyze, "4 out of 5 HR managers state that they have employees who worked abroad in 2020 without notifying them, creating huge compliance risks, from losing their visa status to creating corporate tax obligations". Imagine a company with more than 100 employees requesting various types of global mobility requests at the same time - this not only means a significant workload increase for HR teams, but can also be overwhelming.
‍An Introduction to Remote Work Policies
Remote work policies are agreements between employers and employees that define expectations and responsibilities when working remotely.‍
Before reaching out to employees and sharing exciting increased flexibility options for them to enjoy, we strongly encourage your leadership team to get together and define the following:
Who, where, and for how long? Will remote work be eligible for all employees?
How will we manage and streamline the process of approving the influx of requests?
Our Remote Work Policy Checklist can help guide you through building your remote work policy. Following a series of simple steps, such as: i. gathering data from your relevant stakeholders, ii. defining between synchronous and asynchronous working hours for your company, and iii. looking at compliance risks is crucial in deciding who can work remotely, and where and for how long.
Once your global mobility policy and eligibility criteria has been clearly defined, you'll need to establish an approval process. Employees should know how to request work from home time, a worktation or any other global mobility privilege, as well as who will be reviewing them and the timing for approval.
New Localyze remote policy feature
As our customer's employees take WFH beyond international borders, at Localyze, we evolve our product to stay the go-to solution that allows them to efficiently and compliantly operate a decentralized, global team.
We recently launched a new Remote Policy Feature that enables companies to:
🌎  Set up their company remote policies
⭐  Allow employees to submit requests with all required information
📱 Access all requests in one place and approve with one click
🚀  Notify employees with the decision automatically
This way, all employee's requests are in one single place, avoiding the long email ping pongs and miscommunications: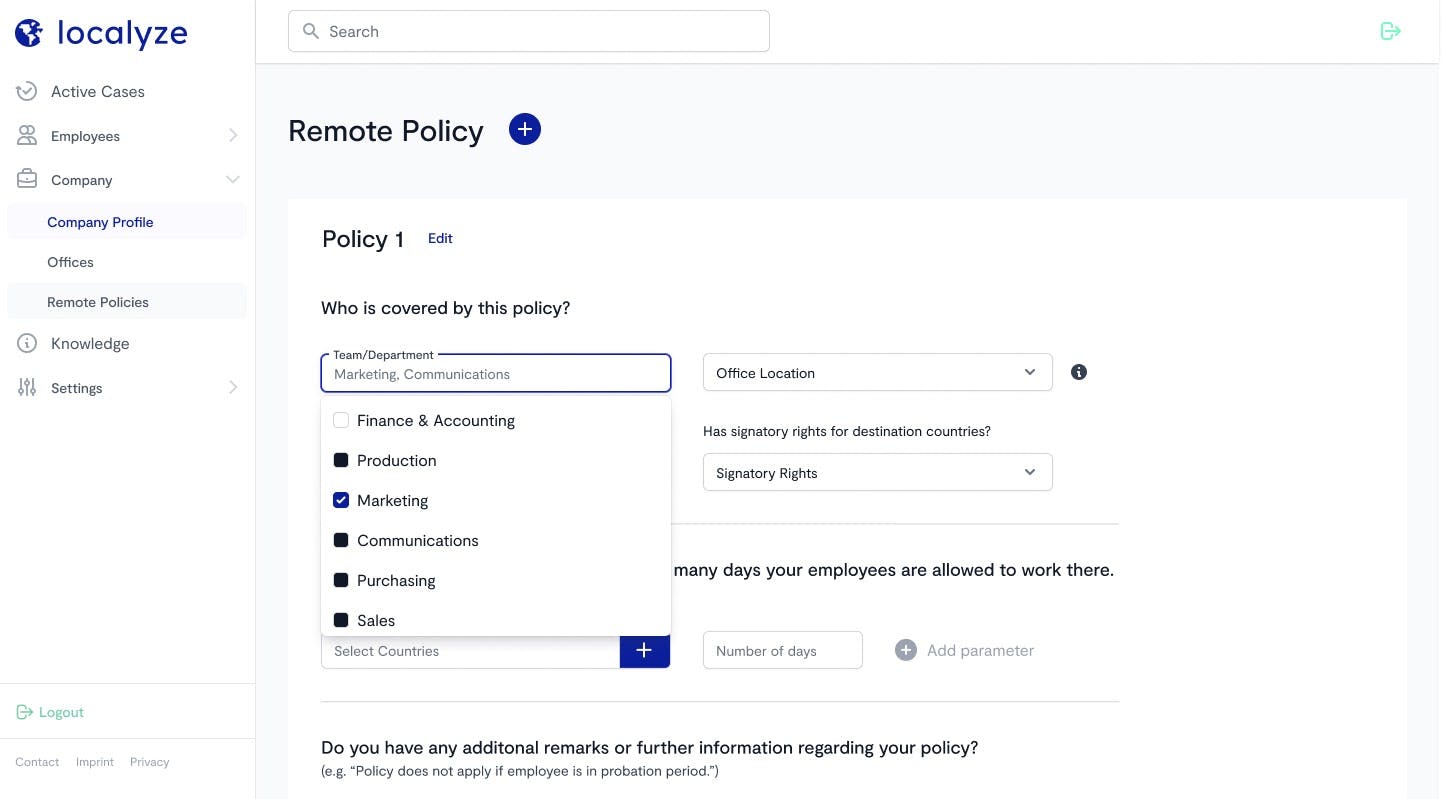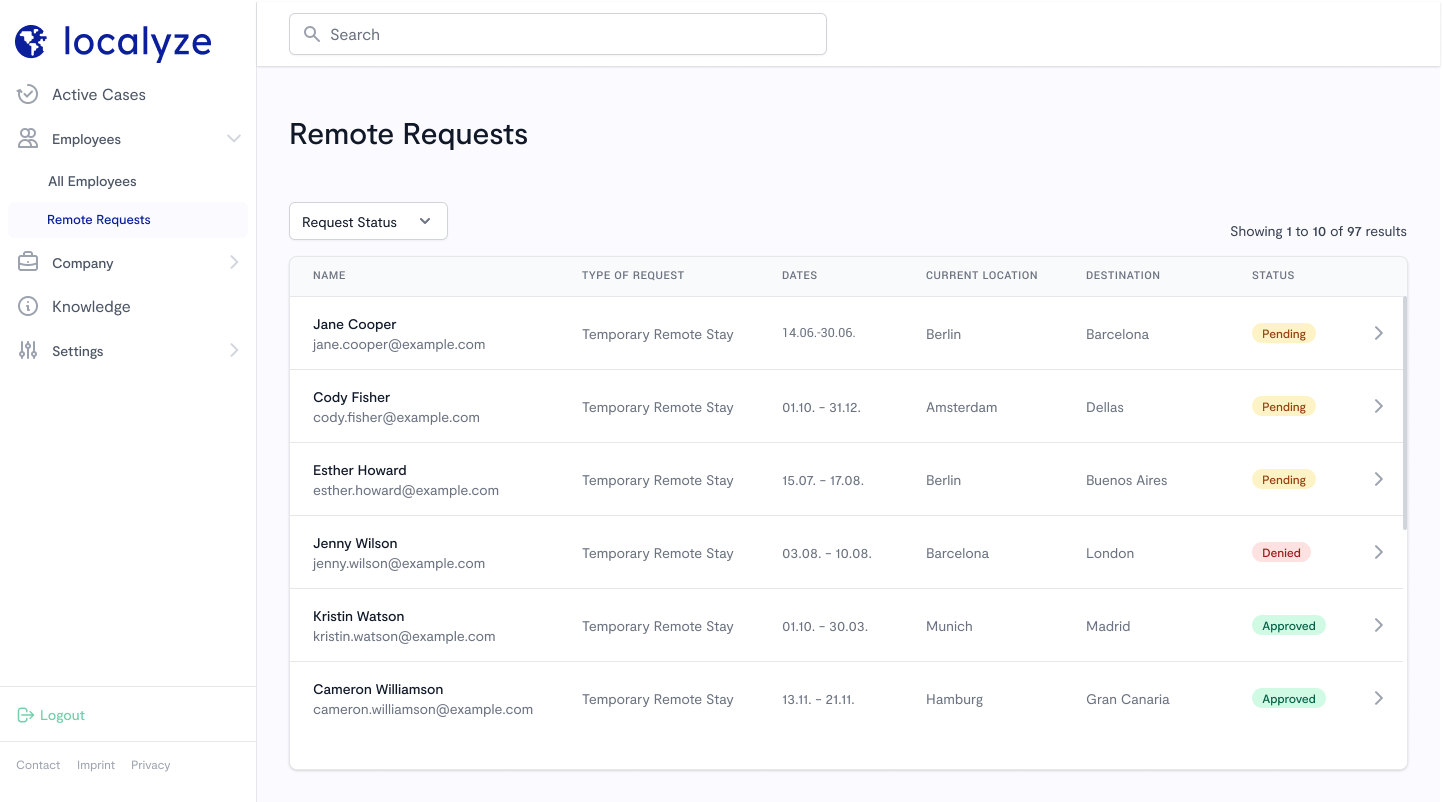 If you are interested in learning more about the Remote Request Feature, don't hesitate to book a demo call with us.
If you have feedback around new product features that would help manage your global talent more easily, please get in touch! We'd love to hear from you.
‍The contents of our website, specifically the articles discussing legal topics, are researched with the utmost care. However, the provider cannot assume any liability for the correctness, completeness, and topicality of the information provided. In particular, the information is of a general nature and does not contain legal advice in individual cases. For the solution of specific legal matters, please consult a lawyer.