The increased relevance of global mobility for economies and societies
Research shows that diverse teams are more innovative and can produce up to 19% more revenue. Doing business is international, and that includes hiring. International recruiting provides various benefits for employers, such as widening their talent pool. This usually results in a more diverse team with higher creativity, productivity, and perspective, providing a competitive edge versus competition.
For those of you who love history, fun fact: back in 1965 the US government introduced a radical change from its restrictive immigration policies of the past, which contributed to the rise of the Silicon Valley that we all know today. Fast forward a few decades, and countries such as Singapore and Switzerland became global talent hubs, ranking in the top 3 worldwide for several consecutive years due to their ability to enable and attract talent. Eventually, it became increasingly necessary for companies to look at their hiring strategy and consider employing international talent and/or expanding internationally in order to stay competitive. Today, we find ourselves in a post-COVID world. One where "working from anywhere" and "hybrid setups" are not only trending but also fuelling a fight for talent, with power shifting away from companies and moving towards employees. Companies are, now more than ever, open to hiring internationally - an opportunity for anyone to seek job openings and gain job experience abroad.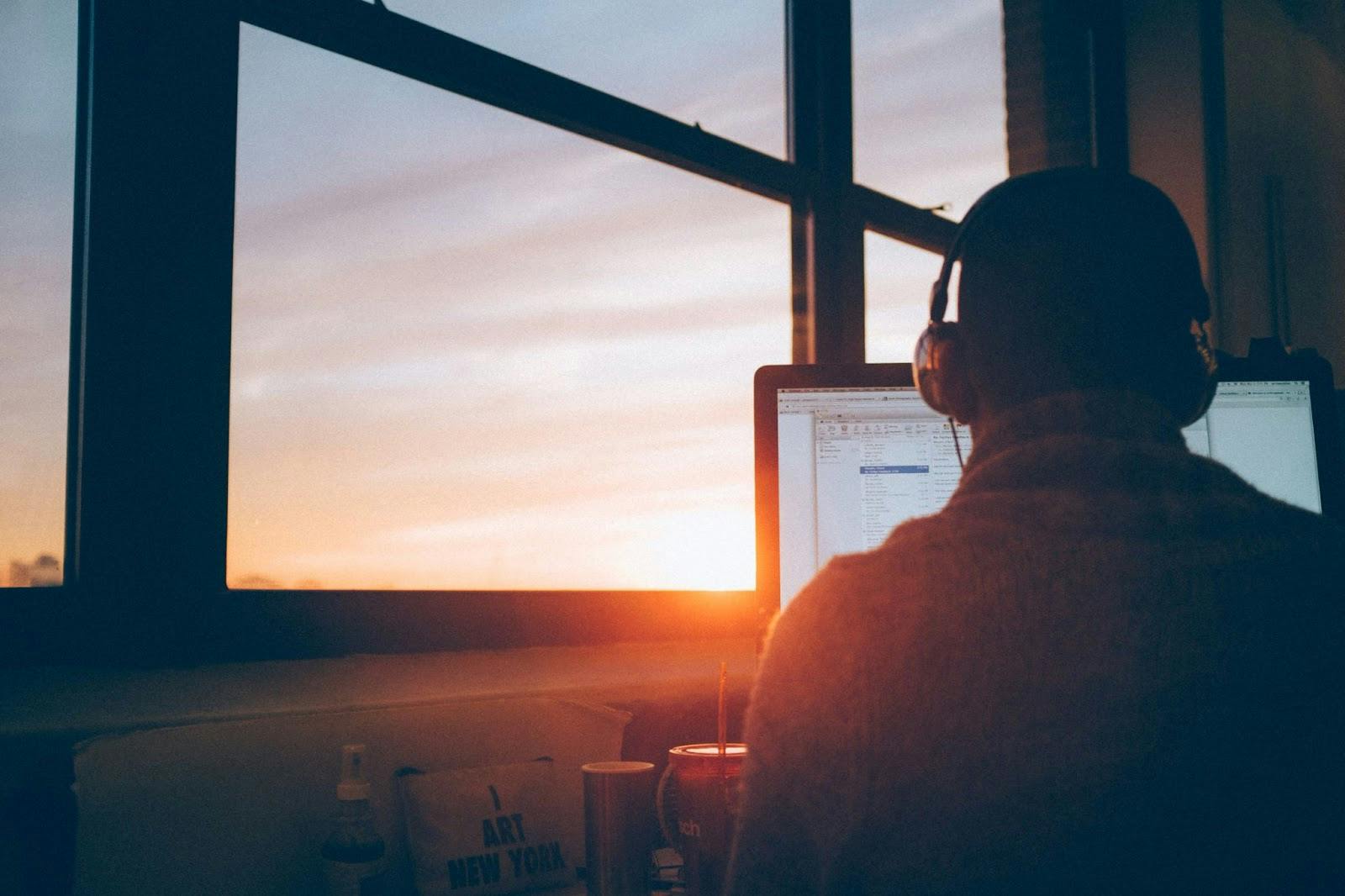 ‍For Localyze and teams involved in the HR world, the societal benefits of migration in terms of equal job opportunities and reduced youth unemployment is something that's close to our hearts. According to the International Labour Organization, "the COVID-19 crisis has severely affected labour markets around the world, hurting young people more than other age groups. Globally, youth employment fell by 8.7 per cent in 2020 compared with 3.7 per cent for adults." In an effort to improve global mobility opportunities for everyone, including young college graduates, we have partnered with Anna Schwarz and Johann Harnoss at the Boston Consulting Group (BCG) and Imagine Foundation to assess the immigration policies for this age group.

How difficult is it for college graduates to relocate for work?
The analysis was built based on conversations with HR professionals, BCG mobility experts and Localyze case managers who guide talent from all over the world through their relocation process. After evaluating the 6 most important drivers of relocation: visa availability, job offer, starting time, total cost, predictability and the path to residency, we built a traffic light chart to depict if the overall process is easy, medium or hard.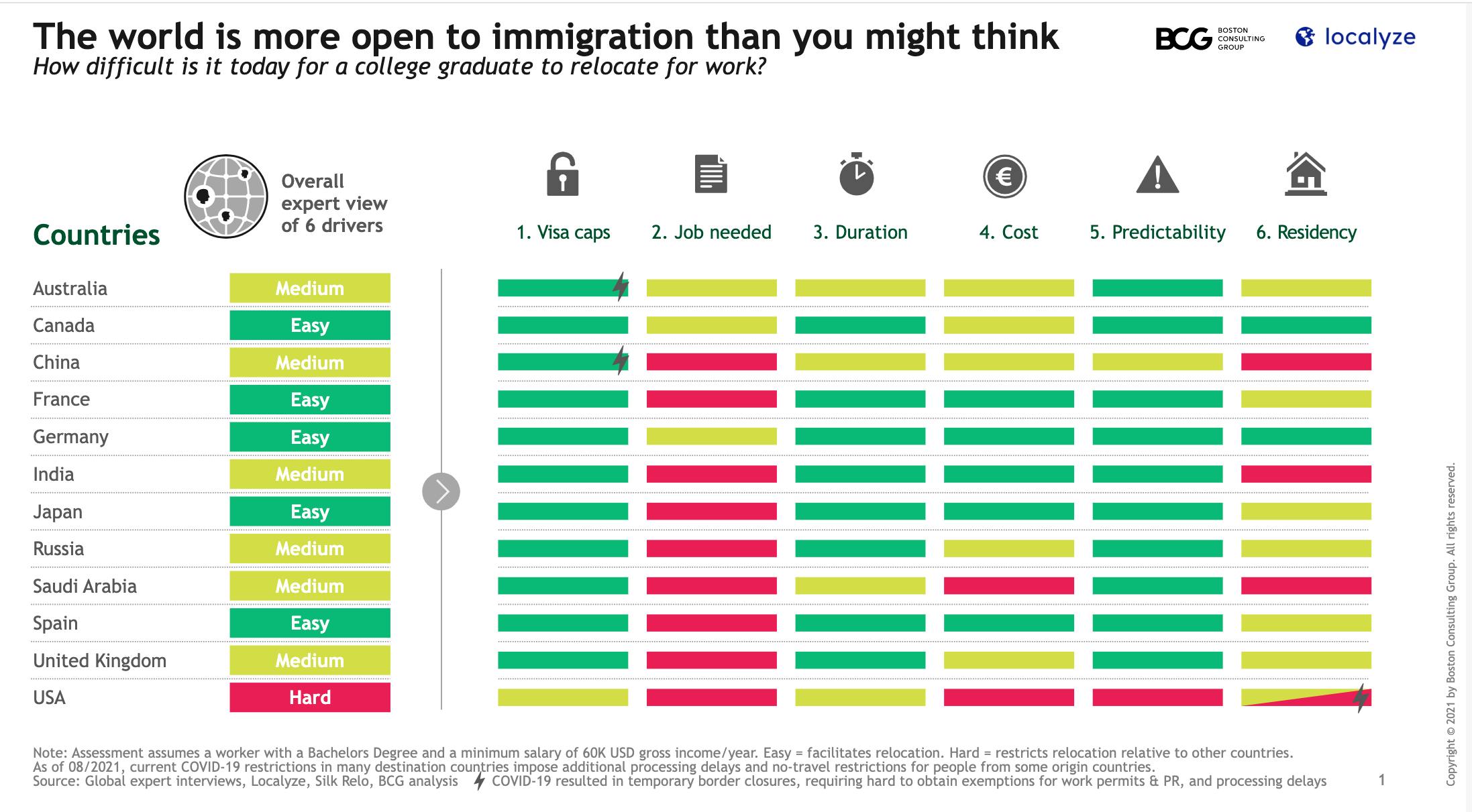 Check out the country overview here
‍Spain is, for example, one of the countries with the most straightforward process for college graduates, as there are federal skilled worker programs and various work permit options available. Processing times usually take 4-12 weeks, which is fairly fast. That is also the case for the UK where, however, most cases require a lawyer's support, making the application process more expensive. The work permit process for the US seems to be the most complex compared to other countries, as the costs are high and the predictability of success is low, which might be challenging for graduates looking for a job abroad. However, the Biden administration plans to rebuild and expand the US's legal immigration system, as well as revamp various programs in the immigration system, including the H-1B visa program for highly skilled workers.
Hanna, the CEO of Localyze, has experience with the pain of relocation herself, as in the past moved to China, the US and various countries in Latin America, where  the lack of available knowledge almost brought her into trouble with the police. "The biggest takeaway is that we still have a lot of work to do for a better flow of talent and improved immigration policies", she mentioned. Johann, Co-Founder at Imagine Foundation adds that in his view, "openness to global talent is an ethical, economic and possibly geostrategic imperative for Europe in the 21st century." Imagine Foundation's team of volunteers contributes to this by pairing aspiring talents in MENA countries with mentors in Europe. "What we see from this analysis is that the world is more open to global talent than we would expect", Anna from BCG points to the role of business: "it is up to business leaders to make use of it, grasp global talent leadership and then also translate it into more innovative products, services and business models that serve us all."
Moving towards a world without hiring borders
‍Currently, bureaucracy and immigration aren't aligned in many countries, and the lack of digitalisation is a huge bottleneck slowing processes down. As an example, one simple way to improve the experience for college graduates would be having transparent recognition of skills and degrees. Better access to embassy appointments would also allow them to take up job opportunities on time. Overall, the economy could benefit from this, and companies would be able to welcome urgently needed highly skilled talent into their ranks.
‍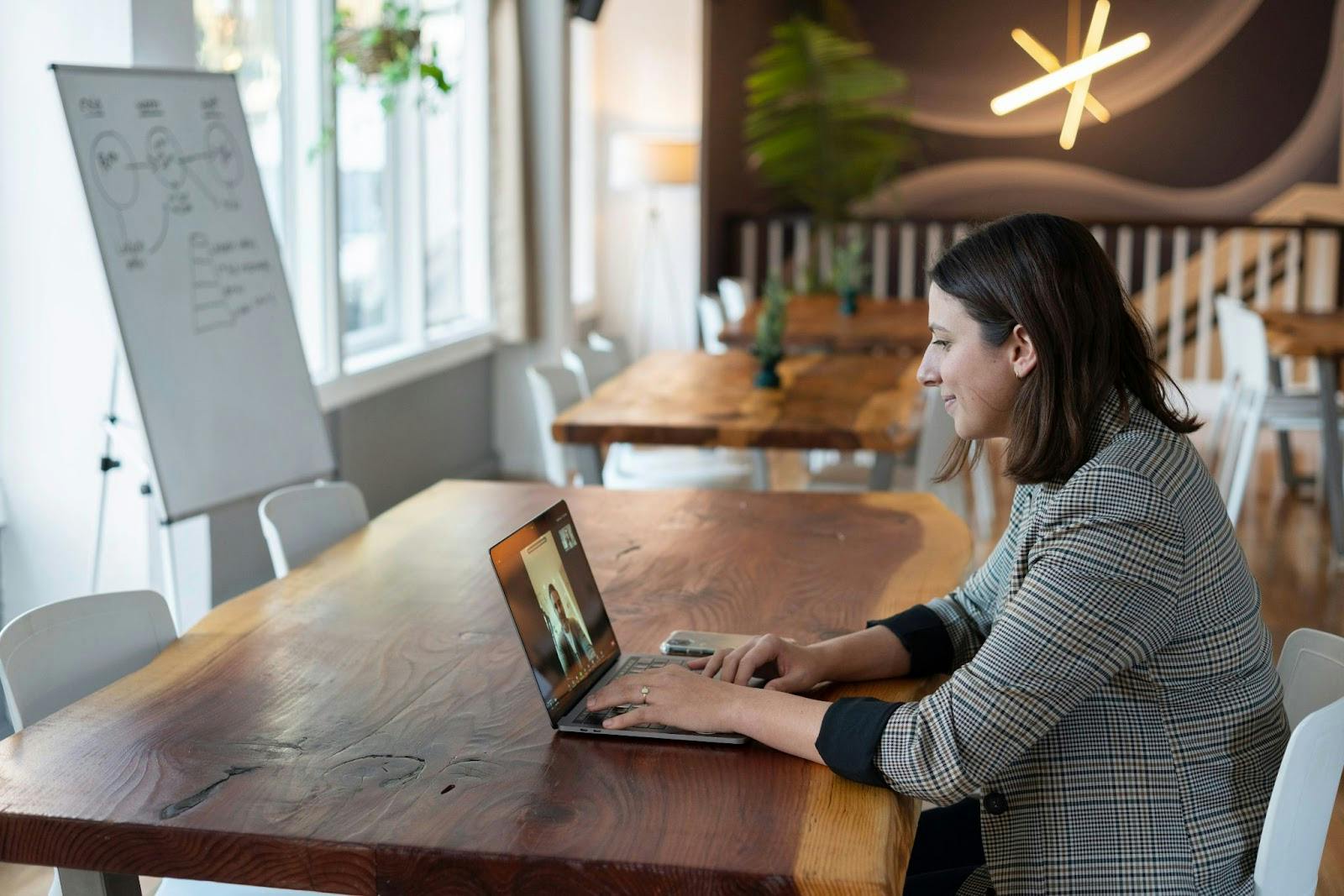 ‍If you are a CEO or founder and are looking at double digit growth for your business, having a global and diverse team should be on your agenda. If you are an HR leader, support your teams with relocation services to improve retention rates and overall employee experience. You can help yourself with a tech solution for global mobility in order to streamline your processes and scale your team. If you are none of these but are still passionate about the topic, you can join movements that are looking at making systemic change, such as the Open Employers Pledge.

Disclaimer: The content of this blog article is researched with the utmost care. Nevertheless, we cannot assume any liability for the correctness, completeness, and topicality of the information provided. In particular, the information is of a general nature and does not constitute legal advice in individual cases.